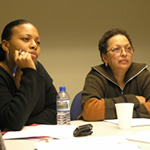 We develop and conduct interactive, on- and off-site workshops focusing on a variety of topics related to CBPR aimed at building capacity within communities and institutions (e.g., academic, health departments, health systems, community-based organizations). We also provide technical assistance to new and emerging CBPR partnerships related to developing, maintaining, and sustaining partnerships. (Please click here for a copy of the Detroit URC's Educational Opportunities Catalog.)

The overall aim of these training and capacity building activities is to enhance the development and maintenance of CBPR partnerships and the use of a CBPR approach to research and interventions. Workshops are co-facilitated by community and academic partners affiliated with the URC and are tailored to the needs of the audience (e.g., topics covered, duration and follow-up). The URC partnership and its affiliated CBPR partnerships and projects serve as case examples throughout the workshops.
Topics covered in past workshops include:
The definition, rationale and principles of CBPR
Identifying and selecting partners and setting priorities
Developing the infrastructure for a CBPR partnership (e.g., staffing, roles and responsibilities, CBPR principles, mission statement and norms of operation)
Establishing trust and effective communication
The application of qualitative and quantitative research methods (e.g., surveys, focus groups, in-depth interviews) using a CBPR approach
The interpretation of data and dissemination of results using a CBPR approach, and
Using a participatory and formative approach to evaluate the partnership process.
Consulting fees for conducting these workshops are based on the scope of the workshop and determined on a sliding scale. For more information, please browse the Detroit URC Educational Opportunities Catalog, or contact Detroit URC Center Manager Mary Beth Damm.