Professor, Health Behavior & Health Education
Associate Director, Detroit Community-Academic Urban Research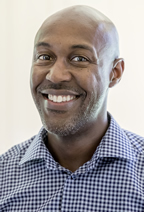 Dr. Neblett is one of the leading U.S. scholars in the area of racism and health, with a particular focus on understanding how racism-related stress influences the mental and physical health of African American young people. Through a research program that integrates psychology, biology, developmental and family science, and public health, his scholarship has added to the body of evidence that: 1) racism-related stress undermines the health and well-being of African American adolescents and young adults; and 2) Black youth's beliefs about the significance and meaning of race, as well as family messages about race, can protect youth from the psychological and physical harm associated with exposure to racial discrimination.
In Dr. Neblett's newest line of research, he conducts community-based participatory research with an eye toward developing and implementing interventions, programs, and policies that can: address the health consequences of individual, cultural, and structural racism; improve health; and promote health equity.
Website | Email | Phone: (734) 647-5237
Research Areas: African-American/Black Populations, Adolescent Health, Health Disparities, Social Determinants of Health, Mental Health, Health Equity,